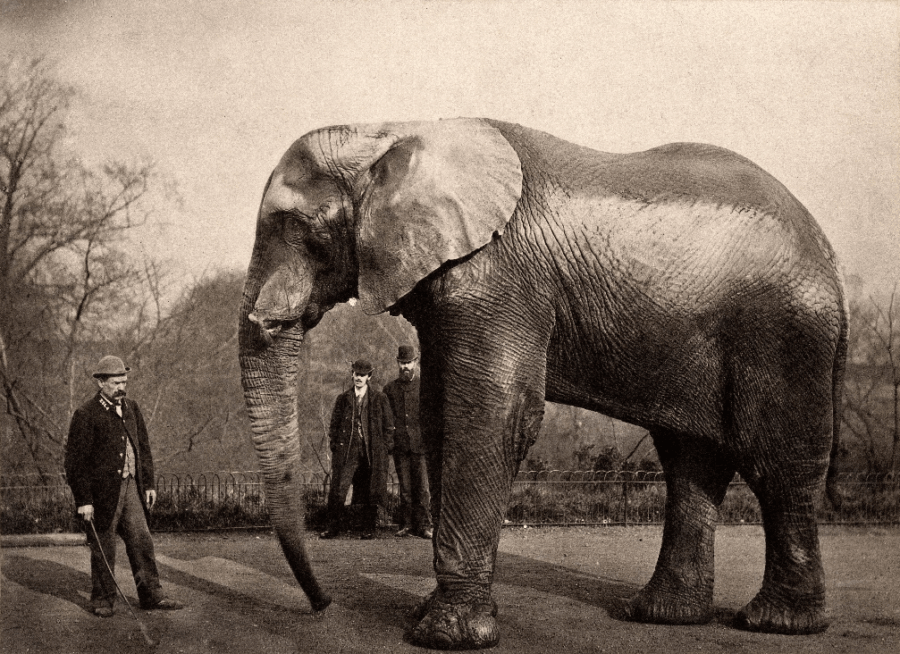 Jumbo now means a large size of something, without being defined. For example, the menus of seafood restaurants often feature jumbo shrimp. Typically the size range is large, extra large, and jumbo
The original Jumbo was an African elephant, captured in 1862 in the Sudan, shipped to France and in 1865 to the London Zoo. In London, Jumbo became famous, and became the object of a lot of affection. He grew to a very large size.
In 1882, the American showman P. T. Barnum bought Jumbo and shipped him to the US, to the consternation of Jumbo's British fans. The elephant generated vast publicity, masterfully orchestrated in the usual Barnum manner as the world's biggest elephant. Jumbo quickly recouped the $10,000 Barnum paid for the elephant.
Jumbo had a friend, Matthew Scott, Jumbo's trainer for more than a decade. Apparently Scott shared his whisky with Jumbo, who was also fond of beer. Scott was an eccentric bachelor who had worked with animals in the zoo where Jumbo resided. Scott was given care of Jumbo and they formed an odd sort of friendship that lasted until Jumbo's death. Scott went with Jumbo to America.
Jumbo did not live a happy life. Apparently due to diet problems, his teeth were malformed, and caused daily toothaches. Maybe that's why Jumbo enjoyed sharing Scott's beer.
Jumbo was hit and killed by a railroad locomotive in Canada in 1885. Jumbo's skeleton was exhibited by the circus for several years and then donated to the American Museum of Natural History, where it still remains. Jumbo's hide was stuffed, exhibited for a couple of years, and donated to Tufts University, where it was destroyed in a 1975 fire.
Scott apparently spent his last days in a poorhouse, probably lamenting his elephant buddy.
Deep knowledge,everyday histories and stories
Like,comment and follow : Greg's Business History.
Happy Reading.
Thanks.
Categories: Uncategorized